Chris Knott Combination GAP Cover
One of 2 options to help you guarantee the true value of your vehicle in case of a total loss claim (write-off) in the next 3 years.
What is Combination GAP cover?
In the event of a total loss, your insurer will only pay you the market value of your vehicle at the time of the loss. However, you may have outstanding finance owing on the vehicle which is greater than that market value. In any case you'll get back less than you paid for, or owe, on the vehicle.
This insurance covers you for 3 years and pays you the difference between your insurer's payout and the net purchase invoice price or the outstanding finance amount (whichever is greater) so you can buy another car for the original value.
Chris Knott Combination GAP costs from just £117.85 for 3 years' protection on vehicles valued up to £15,000 and vehicles right up to £125,000 can be covered. Call us for your quote or get a quote online.

How does it work?
Here are a couple of examples to show you how you can benefit from arranging GAP Cover and the risk you'll be protecting yourself from: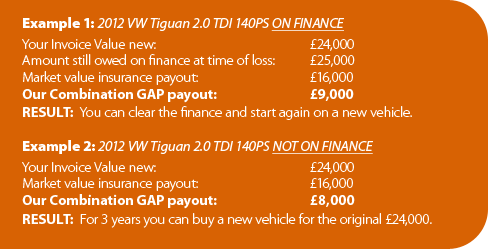 Chris Knott Combination GAP Cover also refunds your excess in the event of a total loss, regardless of fault, up to a maximum of £500.
Who is it suitable for?
Combination GAP Cover is the best option for you if you have bought your car in the last 90 days - especially if it's on finance.
If you've owned the car longer our alternative product - Valuation GAP Cover - will be more appropriate as it enables you to freeze today's value for the next 3 years and can be taken out at any time during your ownership of the vehicle subject to an 8 year old/80,000 mile limit.
Both products effectively allow you to remove depreciation from the equation if you suffer a write-off within 3 years of arranging the protection and they both put you back in your original position.
To arrange cover, simply call FREE on 0800 917 2274 and follow the car options on the menu or get a quote and buy online by clicking this button: