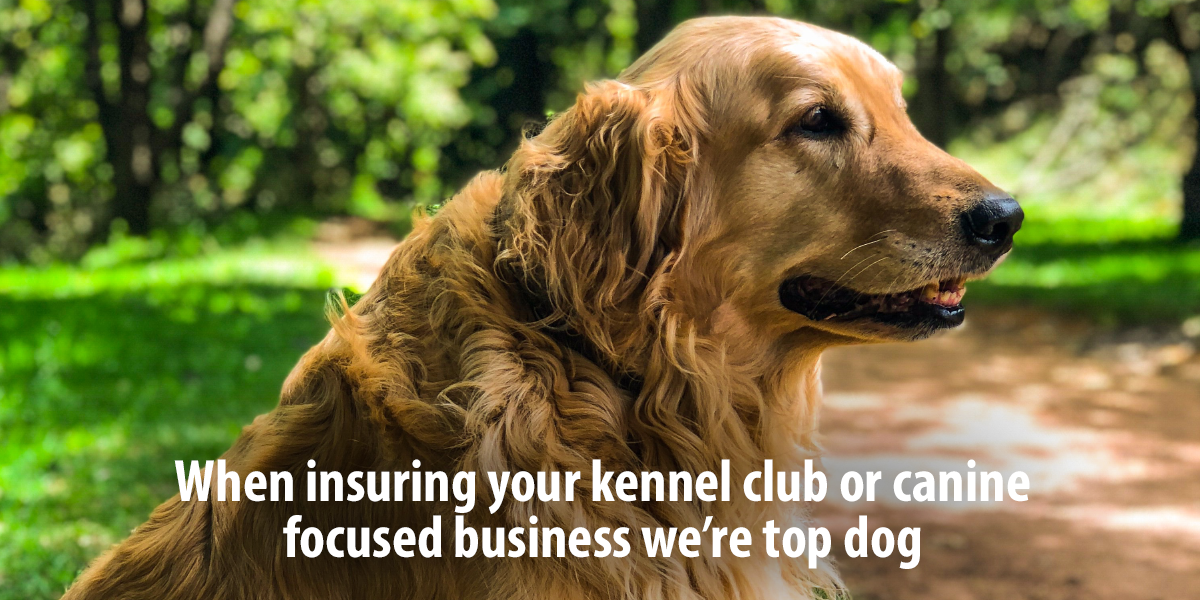 If you're running a canine club or dog-centred business you need Chris Knott's Canine Insurance in your life. You'll already have an idea what unpredictability means. One of the first things you do with a new dog is train them by putting appropriate controls in place - for their own protection and for others.
And so it is with our bespoke, modular, canine insurance which has been specifically designed with the needs of kennel clubs, training and agility groups, instructors, walkers, sitters (plus an array of other dog services and activites) in mind. We can even provide cover where live ammunition is used with gun dogs.
Why you should consider Canine Insurance....
However you operate, it is your duty to provide an environment that is safe for all. But what happens if a visitor or spectator is injured or perhaps their property is lost or damaged and they claim it was your fault? If a visitor was unfortunate enough to suffer an injury that prevented them from working, we've seen cases where the costs run into hundreds of thousands of pounds.
Even if a court decided you were not to blame, the cost of lawyers' bills alone could potentially run into thousands that may not otherwise be recoverable.
Our affordable canine cover protects you from the full range of risks that may arise from carrying out your dog-related activities. Anything from running a business or a club to simply arranging a dog show or agility display.
At Chris Knott Insurance we want to ensure that, if you are ever put in the situation where someone looks to you for compensation, you have the right insurance cover in place. Canine Insurance enables you to defend and manage the claim and to protect your canine club or business from the financial impact.
How do we know what cover we need?
It's likely you're not an insurance expert. That's why Chris Knott is on hand to guide you through and make sure you have the right cover for your needs.
In discussion we'll simply select the elements you want and choose the level of policy cover that best suits your individual requirements. Of course, we can advise you if you're unsure on anything. We want you to be confident in your cover and recognise its value.
What does CANINE insurance cover?
Typically, cover is for your legal liabilities - for the defence, management and payment of claims made against you. However, you can also arrange protection for your buildings, equipment, cups & trophies, abandoned events and loss of money. Here's the full run-down...
Upto £10 Million Public Liability - covers your organisation, trustees/directors, employees, members, judges, gamekeepers, beaters, stewards & officials in connection with the activities of the club/society or business. For the defence, management and payment of claims made against you for injury, loss or damage.
Upto £10 Million Employers' Liability - covers your club or business for injury, death or disease to employees and volunteers. For the defence, management and payment of claims.
Upto £250,000 Victim Compensation - if you are the victim of negligence and have been unable to re-coup your court award from the negligent person.
UPTO £100,000 Trusted Persons' Indemnity - covers your trustees or company directors & officers for errors, acts and omissions as they carry out their duties. For the defence, management and payment of claims.
UPTO £100,000 Professional Indemnity - covers dog trainers for errors, acts and omissions that cause financial loss to others. For the defence, management and payment of claims.
£75,000+ Buildings - extendable cover that pays for loss or damage to the buildings owned, hired or used by your club/business.
upto £15,000 Equipment - cover that pays for loss or damage to the equipment owned, hired or used by your club/business.
CUPS & TROPHIES - cover for loss or damage.
ABANDONED EVENTS - covers you for cancellation of club organised events due to unforseen circumstances (exclusions may apply).
Loss of Money - cover when taking money to the bank or when it is temporarily at the home of club or company officials.
what does all this cost?
We recognise that you probably don't have access to huge amounts of money and that's exactly why you need to protect your club or business in the first place. Thankfully, Chris Knott's cover is highly affordable - starting at under £68 for a whole year's protection.
How do we get a quote?
For peace of mind and a no-obligation quotation, please give Chris Knott a call FREE on 01424 205005 and speak to a Canine Insurance expert, or request a callback.
We'll discuss your requirements, provide any advice you need and follow it up with an explanation of our cover solution and how it addresses the risks your organisation faces.